Solidarity Hub - Social Mall
The Social Mall (also known as Solidarity Hub) supports the distribution of food and other items (cleaning and personal hygiene products, clothes, shoes, school supplies, toys, etc.) to K.Y.A.D.A.'s beneficiaries.
The Social Mall is housed at the "Old Guard's" emblematic building across from Larissa Station. The original aim was to put into practice a solidarity movement among Athenians.
It is also the location of the Social Pharmacy, Social Grocery, the Athenian Market, the Social Laundry and the Social Stationery/Toy Store.
Ώρες εξυπηρέτησης κοινού: Από Δευτέρα έως Παρασκευή 8:00 – 15:00 (κατόπιν ραντεβού)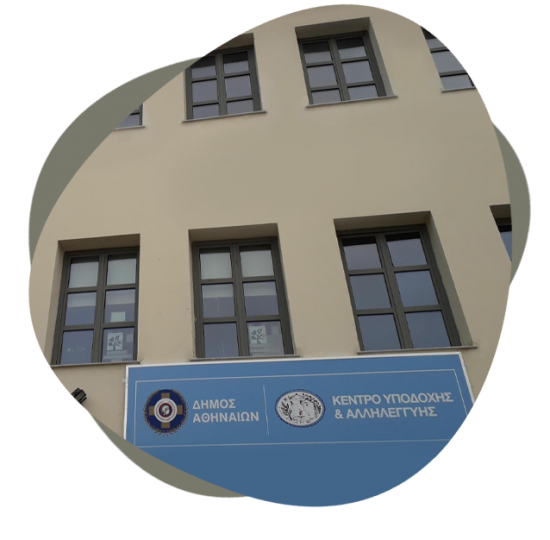 Social Pharmacy
The Social Pharmacy was created to provide comprehensive services to beneficiaries. The facility that is funded under the act "Basic Goods Provision Facility: City of Athens Social Grocery and Social Pharmacy", of the "Attica 2014-2020" O.P.
The City of Athens Reception and Solidarity Centre's Social Pharmacy operates every day (Monday-Friday) from 9 a.m. to 3 p.m. at the Citizens' Mutual Aid Hub (2 Domokou Street) across from Larissa Station. The main goal is to ensure that people who do not have access to the healthcare system will not discontinue their treatment.
Staffed by experienced and specialized staff, it serves over 3.000 beneficiaries with medicines, parapharmaceuticals, medical equipment, and other medical supplies. In addition, the beneficiaries can access psychosocial support, counseling and/or referrals to other facilities where they can also seek help and social protection.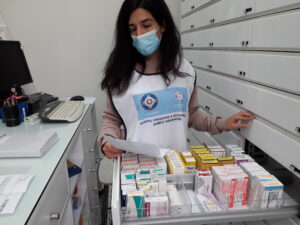 Social Grocery
Athenian Market
Social Laundry
Social Stationery Store
Social Hair Salon